High Points in Low Places and the
Impact of Obscurity
April 17, 2019
Britton Hill is 54 miles from my front porch. Positioned near the unincorporated community of Lakewood, it measures a whopping 345 feet above sea level and is the highest point in Florida. By more than 100 feet, Britton Hill is the lowest elevation high point of any of the 50 US states.
More a gently rising undulation than an actual mound or knoll, Britton Hill's summit is denoted by a plaque, monument, restroom, and a couple of picnic tables. An otherwise nondescript section of real estate it nevertheless claims its notoriety inconspicuously, flying under the radar, you might say.
Florida's "mountain" abides on the road less travelled, a bit out of the way, existing in obscurity, yet proudly having its place, its moment. Many of us can relate to Britton Hill. Although it seems as if we dwell in the background of life, don't we have a certain place and moment? Further if we weren't around wouldn't we be missed?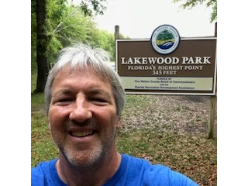 The Christmas Classic "It's a Wonderful Life" tracks the story of George Bailey, a man who has sacrificed his dreams in order to help others. Occupationally he's a banker, but he's also a husband, father, brother, friend, and helper to many of the residents in his enclave of Bedford Falls. When a time comes that life throws George a curve, he becomes disillusioned begging the question of if life, his life, really matters. Pining for an alternate reality he learns what life for him and others would look like had he never existed. Guardian angel Clarence provides George a glimpse of that perspective and George learns through a series of encounters the difference he had made. Each of us find out through George how each of us make a difference.
Earl was my neighbor. He lived a full and long life well into his late 90's. World War II vet. Married to Mattie for about 70 years. Raised a family. Christ follower and active in his church. What you would call a solid citizen.
Through the time I knew him Earl shared a lot of wisdom. About serving his country. About quiet success. About love. About God.
In his later days, as Earl grew increasingly frail he continued to have an impact even in his convalescence. From his hospital bed the long-time Gideon was a faith witness to a variety of doctors, nurses, and attendants. When he returned home from those stays he was excited to share a report on how many of those workers had come to know Jesus.
Earl mattered to a lot of people. Yet, if you didn't reside in our unpretentious suburban St. Louis neighborhood you likely didn't know him. Well into my 50's he still referred to me as "young man." He was the last person to call me that. I appreciated it. Earl made a difference.
Many years ago the college search process was not the elaborate and competitive undertaking for high school seniors that it is today, at least not for me. As best I remember each senior was allotted a ten minute appointment with the school counselor, Ms. Austin I believe, to share and discuss our post-graduation plans. Our conversation lasted all of 30 or 40 seconds and went something like:
Ms. Austin: "Kirk, what are your plans?"
Me: "I'm thinking about going to North Texas State."
Ms. Austin: "Everyone I know who's gone to school there has been successful."
Me: "Sounds good."
The impact of that brief exchange was tremendous. During my four years in Denton, Texas I met my future wife, secured friends for a lifetime, and established an educational foundation that fostered success in a variety of areas. Ms. Austin made a difference.
The ones who affect us the most often seem to be "everyman" and "everywoman." Otherwise understated, they possess relevance. Their Google search hits yield maybe three or four entries, if that. Yet they are our heroes and heroines, making a difference for us and undoubtedly for others. Who are your George Bailey's, Earl's, and Ms. Austin's? Oftentimes like the unremarkable Britton Hills, the unremarkable yield remarkable influence.
The Seed Sower